Police have arrested five people who allegedly trafficked a record 456kg of cannabis from Canada to Taiwan by hiding it in bags of wood pellets, the National Police Agency (NPA) said yesterday.
The Third Special Police Corps held a news conference at the Criminal Investigation Bureau at which NPA Director-General Huang Ming-chao (黃明昭) applauded police for their efforts, and reaffirmed that law enforcement would continue to crack down on drug trafficking and organized crime.
Lin Chia-hung (林家弘), 48, has been residing in Canada for 10 years, police said.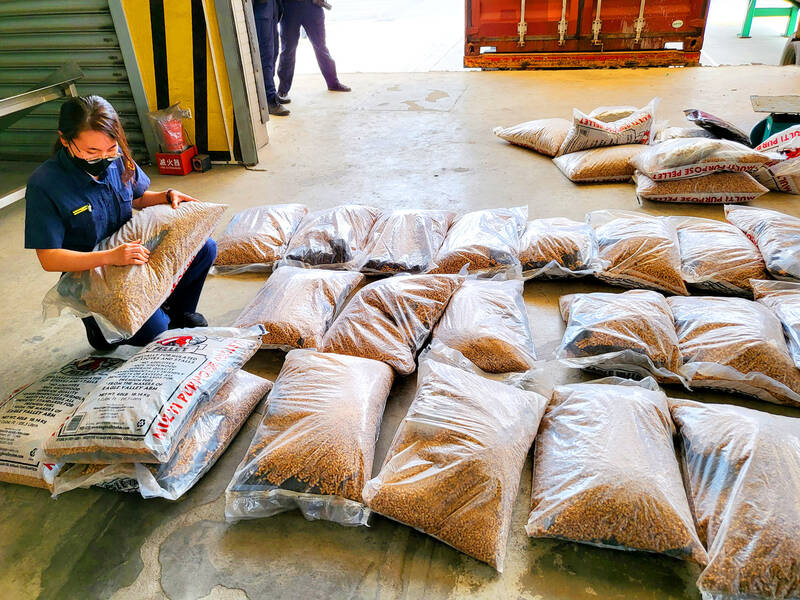 A police officer inspects bags of wood pellets that have marijuana concealed in them in an undated photograph.
Photo copied by Wang Kuan-jen
As purchasing cannabis is legal in Canada, Lin and his childhood friend Chen Chih-chung (陳志忠), an alleged member of the Taipei-based Northern Union crime gang, determined that trafficking it to Taiwan would be profitable, police said.
Chen Chih-chung discussed the plan with alleged Bamboo Union member Chen Liang-hsu (陳亮旭), who allegedly asked Yao Chang-hung (姚昌宏) to transport the cannabis to clear a large gambling debt, police said.
Chen Liang-hsu allegedly also asked gang members Huang Hung-tsung (黃宏宗) and Chen Chien-an (陳建安) to help, police said.
The group bought a company that sells set-top boxes and put Yao in charge, police said.
The group imported wood pellets worth an estimated NT$150,000 (US$4,678) in March, which passed Taiwanese customs, but a separate shipment of wood pellets that arrived on April 28 concealed 409 bags of cannabis, they said.
The company was registered to sell set-top boxes, so the shipments of wood pellets, a relatively low-cost product, prompted suspicion, police said, adding that they worked with prosecutors and customs officers to apprehend Yao after he claimed the second shipment.
Chen Liang-hsu fled after Yao's arrest, police said, adding that he joined a pilgrimage with some friends in July to pray for luck, but was detained after a fight with temple officials.
Police traced the shipment and have arrested four other suspects, including Chen Liang-hsu, over the past six months, they said, adding that investigators have confirmed that Lin, who is still in Canada, is an accomplice.
Prosecutors charged the five people who were arrested and put Lin on a wanted list, police said.
The cannabis was worth nearly NT$700 million and could have reached 450,000 people if distributed, police said.
Source: https://www.taipeitimes.com/News/taiwan/archives/2022/11/09/2003788565