A man and his parents charged after drugs and thousands of dollars in cash were found buried in their suburban backyard were already on bail for similar offending, an Adelaide court has heard.
Key points:
SA Police is investigating the southern suburbs drug scene, including suspicious deaths
A search of a Morphett Vale property allegedly found drugs and cash
A man and his parents will face court today
Officers searched the family's Morphett Vale property yesterday, including digging up the backyard.
Police said they found more than 600 grams of methamphetamine and a separate container with $50,870 in cash.
Detectives also seized jewellery and an e-bike, which police allege are the proceeds of crime.
Chad Rick Modra, 38, and his parents Ricky Andrew Modra, 62, and Carolyn Patricia Modra, 59, were charged with drug trafficking, drug possession as well as money laundering.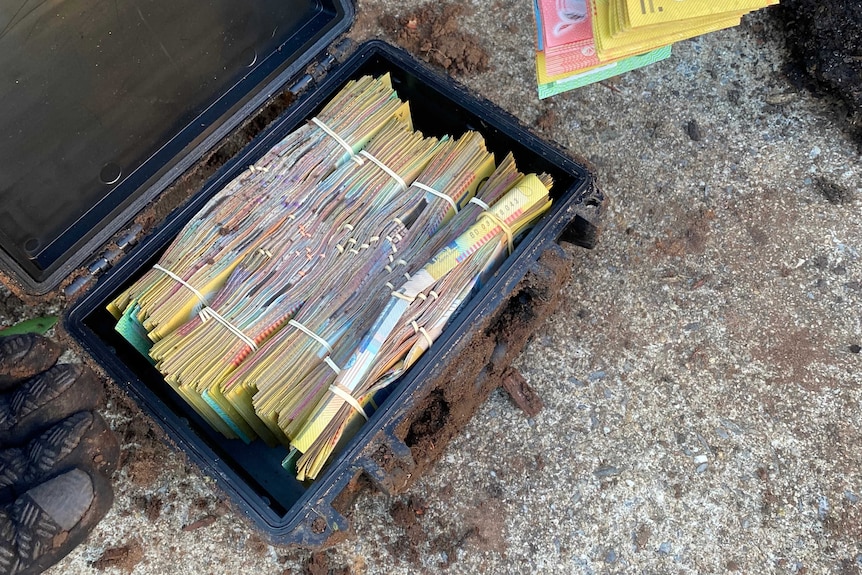 The Adelaide Magistrates Court today heard the trio was already on bail for similar charges related to commercial quantities of the drug fantasy and around $50,000 found at the home in September.
Magistrate Clive Kitchin refused bail for Chad and Ricky Modra on the basis the new charges were "remarkably similar" to and had "come so soon after offending that occurred last year".
But he ordered a home detention bail report for Carolyn Modra.
The trio will appear in court again in coming weeks.
Police said the search was conducted as part of Taskforce Southern, an operation crimes in Adelaide's southern suburbs.
The three people charged have not been linked with any violent crimes.
https://www.abc.net.au/news/2022-01-17/sa-police-finds-drugs-and-cash-in-yard-in-taskforce-southern/100760570