From West Australia…
Police have stormed a Western Australian detention centre and arrested a 33-year-old man they believe is connected to the Comancheros bikie gang, over a string of serious drug trafficking charges.
Andrew John Hickling was arrested on Wednesday at Yongah Hill Immigration Detention Centre, 100 kilometres north-east of Perth, with 80 WA Police and Australian Border Force officers in attendance.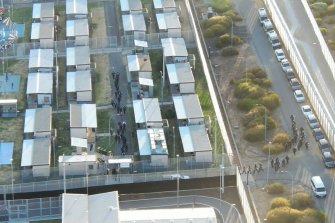 It will be alleged the accused was involved in the sourcing and distribution of large quantities of methamphetamine and other drugs.
Deputy Commissioner Col Blanch said a number of search warrants were executed and a number of items taken.
"We say this is an organised crime network operating from the Yongah Hill Detention Centre, working with other organised crime members on the east coast of Australia and here in WA," he said.
"The methamphetamine that we have seized that we're going to allege was organised by those in detention did come from the east coast of Australia, on trucks over the border into Western Australia."
It will also be alleged the accused is directly linked to several seizures of methylamphetamine and heroin across the state, including 5.9 kilograms of methylamphetamine on January 18.
Drug and Firearm Squad detectives stopped a truck in Midvale that had travelled into WA via Eucla earlier in the day.
Further inquiries then led to vehicle interceptions and the execution of search warrants at numerous premises around the Perth metro area and the seizure of drugs, firearms and cash.
Several people were arrested and charged with various offences.
The 33-year-old was also allegedly involved in an incident on February 1, when about 4.4 kilograms of methylamphetamine was found in a storage unit in Welshpool.
Another man was arrested and charged at the time.
Deputy Commissioner Blanch said police were looking into ties with the Comanchero Outlaw Motorcycle Gang and he believed there were "strong connections."
"Methamphetamine importation into Western Australia is about profit, not necessarily about gangs. Certainly gangs facilitate the importation, but at the moment, given the low quantities available they are fetching up to $400,000 per kilogram, that is an extraordinary price," he said.
"This arrest is just one part of a more broad, complex strategy to disrupt and dismantle serious and organised crime groups operating in, or targeting Western Australia."
Australian Border Force acting regional commander Shaun Senior said the success of the operation was due to close collaboration between ABF and WA Police Force.
"Continued cooperation between both agencies allowed for the search warrants to be executed successfully to gather evidence and ensure the safety of our officers, detainees and staff," he said.
The man was charged with conspiring to sell prohibited drugs, possessing a trafficable amount of methamphetamine with intent to sell, laundering property or money from proceeds of a major offence.
He appeared in Perth Magistrates Court on Thursday and was remanded in custody.
https://www.watoday.com.au/national/western-australia/man-accused-of-running-national-drug-syndicate-out-of-wa-detention-centre-20220224-p59zhs.html