Hemp is one of the oldest traded plants in the world, and cultivation in Scotland started as far back as the 11th century. Historically, cannabis – the name of the plant from which hemp is derived – was used to produce rope, cloth, lighting oil and medicine from around the year 1000 until the late 1800s.
These days hemp is big business in places like North America and France, but the UK has been much slower to embrace this market, with little production going on or infrastructure to support it. However, our new study makes clear the myriad benefits and opportunities this plant provides – including, crucially, the reduction of carbon emissions and its usefulness in helping to mitigate the effects of climate change.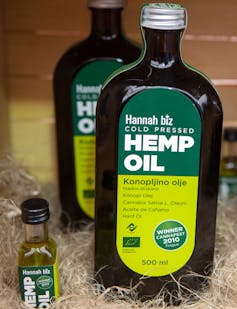 Hemp was widely used in the UK until the 20th century when cheap and abundant jute and cotton made it uncompetitive. The decline in its industrial use was gradually replaced by its misuse as a psychoactive drug. This resulted in European and North American countries banning its cultivation. By 1928, cultivation was banned in the UK too. Currently, hemp production is restricted except under Home Office licence.
According to the United States Department of Agriculture (USDA), the total value of hemp production in the US was about $824m (£723m) in 2021. In Europe, France is the largest producer of hemp, followed by the Netherlands and Austria. The UK does not have any current data on production, but there are pockets of hemp farming dotted around the country.
In Scotland the crop is grown at small scale in Aberdeenshire and in the Borders, with enormous potential to make the country's agricultural sector carbon neutral.
Read more at  https://theconversation.com/carbon-busting-hemp-could-help-transform-scottish-agriculture-to-zero-emissions-192477